André Forbes
Ambassador Quebec's North Shore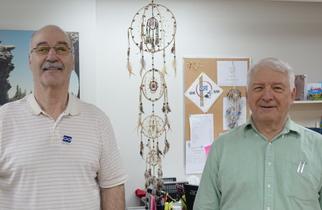 ---
In 2005, André founded the Côte-Nord Métis Association with friends. Previously, he was a member of the Métis Corporation of Quebec. Currently, he is the Executive Director and volunteers at the office 3 days a week. His team works for the defense and recognition of Métis rights. They defended these rights in 2008 when governments attempted to sign a treaty with First Nations under the name Common Approach. They will always defend Métis rights to hunt, fish and harvest, as well as the right to shelter for these activities.  They defend Métis Ghislain Gagnon, whose case has been in court since 2007.
In 2014 and 2016, the Association was prime contractor in the repair of roads on the North Shore.
André has worked as a volunteer in several organizations such as Centraide Duplessis, the Côte-Nord Book Fair, the St. Jean Baptiste Day Committee, the Association of Parents and Friends of the Mentally Ill, the FTQ Construction, the Lac Daigle Citizens Committee. In 2003, he was even an independent candidate in Quebec's provincial election.